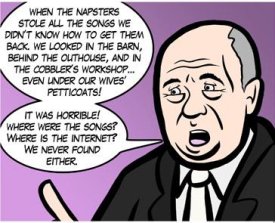 Cory
I used to love reading comic books when I was younger, haven't been doing much of that lately. Found a good one today-satirical comic on one of the head dinosaurs of a big record conglomerate. Have a good laugh and wave goodbye to the old guard.
Here is another work following new emerging internet direct marketing model-artist to fan. Kristin Hersh of Throwing Muses and solo fame is helping establish CASH Music(Coalition of Artists & Stake Holders).
Kristin states, "Just to head off any potential confusion, CASH Music is not "me", or "mine". It's a group of people that have built a framework that is not meant for any single artist. I'm only the first. Look for more artists soon. The next featured artist and a co-founder of the coalition is Donita Sparks. CASH will soon be open to any and all independent artists who want a set of tools to offer their music directly to their audience for collaboration as well as financial support."
So if your an indie artist maybe take a stroll over there and see if it looks good for you. If your a music lover you can check out samples of music and purchase there too.